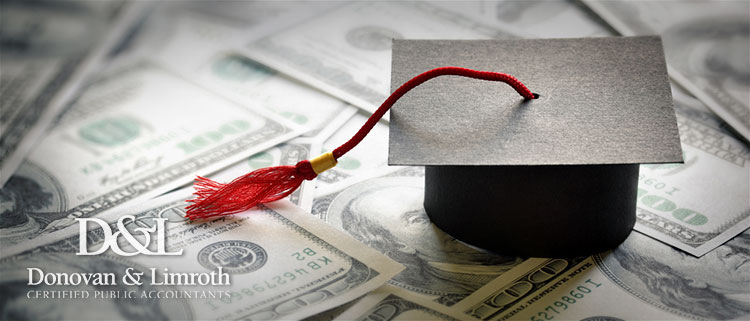 If you're considering refinancing, learn the right questions to ask and options to consider.
The American Institute of CPAs (AICPA) conducted a survey in 2016 of those with student debt which revealed:
46% are working second jobs
37% are cutting living expenses by moving in with family members
40% are living with roommates
71% said they would reconsider their higher education decisions
36% said they wished they'd attended community college for their first two years
34% said they wished they'd chosen a public versus a private school
This paints a grim picture. Student loans are impacting lifestyles. A majority of adults with student loans report making personal and financial sacrifices in order to meet their loan payments.
To best help you, Donovan & Limroth takes the time to learn about you and your individual challenges. This is the best way to help you customize your financial and tax planning. And with higher education costs rising and student loans shaping people's lives, these are crucial conversations.
If you are saving for future expenses, we can provide information and tools about paying for higher education. Your research should include federal loan programs and the pros and cons of federal versus private loans from commerical lenders.
If you currently have student loans and are thinking about refinancing, it's important to look at the long-term financial impact of your refinance options. The size of student loan debt in the U.S. exceeds $1.3 trillion. Even more staggering is that this debt, according to the Federal Reserve, increases at about $2,700 per second.
Refinancing $75,000 of student debt down from 6.8 percent to 4.82 percent could save you around $8,900 over 10 years.
And refinancing $75,000 of student debt from 10 percent to 4.82 percent could save you around $24,266 over 10 years.
Know that refinancing is possible, and with the current boom in the student debt refinancing market, it can be a reality.
With more than 44 million people paying school loans, tools such as LendEDU have become popular. LendEDU allows you to compare student loan refinancing offers from companies, including SoFi, Citizens Bank, LendKey, CommonBond, Earnest and College Ave. You can compare rates, terms, and qualification requirements, and there are no fees to refinance student loans.
NerdWallet and Credible have teamed up to offer similar services. You can learn about their process and recommendations for the "11 Best Companies to Refinance Your Student Loans in 2017". NerdWallet also provides an easy-to-use student loan refinance calculator, allowing you to calculate and compare your savings.
Donovan & Limroth encourages clients to research carefully and make informed decisions. The National CPA Financial Literacy Commission also advises you to:
Read carefully any loan documents before signing them with respect to interest rates, repayment terms, penalties, and other important information.
Know your various repayment options such as the standard repayment plan, graduated repayment plan, extended repayment plan, income-based repayment plan and loan consolidation.
Be aware that student loans are hard to cancel, even in bankruptcy. Death and permanent total disability are two of the very few ways to get student loans discharged.
Before refinancing, also explore student loan forgiveness programs and qualifications. And if you have federal loans, you may be eligible to apply for Student Loan Income-Based Repayment (IBR), which is determined according to your ability to pay instead of how much you owe. For guidelines and an estimate, use an IBR calculator to help you decide if you should apply. For some, this could offer more savings than refinancing.
The goal is to be able to receive and enjoy the benefits of higher education and pursue your dreams. In a press release, Gregory Anton, CPA, chair of the AICPA's National CPA Financial Literacy Commission said, "College is often viewed as a stepping stone to the American dream. However, the way education is funded could actually wind up delaying home ownership, getting married, and having children—hallmarks of that dream."
If you have questions about financial planning and student loan refinancing, contact Donovan & Limroth for assistance.