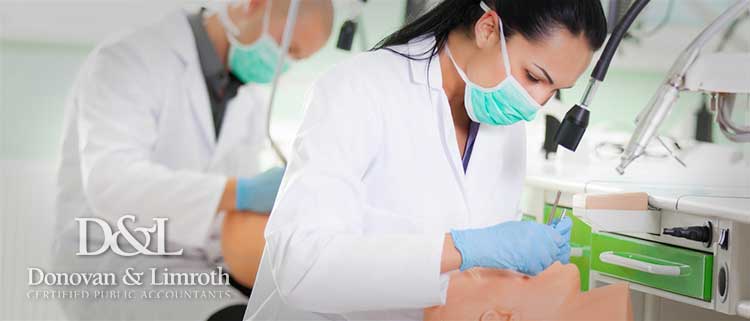 Like refinancing a mortgage or doing the "credit card shuffle" to move debt to lower interest rate accounts, dental school loan borrowers are considering the money-saving options for loan repayment and refinancing.
Repayment and loan forgiveness programs and resources are available to newly practicing dentists. The American Dental Association (ADA) has compiled a list of these resources nationwide and by state. With the student loan refinancing market booming, borrowers can also explore refinancing high-rate student debt.
According to the American Dental Education Association, graduates in 2016 left school with an average of $261,149 in debt. When refinancing, a vital step is to research carefully and perform a long-term and short-term analysis, including tax implications, in order to make the best choices.
Donovan & Limroth recommends that you:
Review loan documents for interest rates, repayment terms, penalties, and other important information.
Research repayment options, which can include standard, graduated, extended and income-based repayments.
Calculate the advantages and disadvantages of loan consolidation.
Be aware that public service loan forgiveness and special protections, such as forbearance and income based repayment plans, which apply to federal loans, disappear when you refinance.
Consider a cosigner to help secure refinancing approval and lower your interest rate.
In an ADA interview with Baltimore dentist Dr. Edgar Radjabli about debt repayment strategies, Radjabli said he graduated having eight loans from six lenders. They totaled about $265,000. By consolidating, he now has one bill to pay and estimates that he will save almost $75,000 in interest over 15 years.
To calculate your potential savings through refinancing or consolidating high-rate loans, use a student loan refinance calculator. Companies such as LendEDU also provide online refinancing tools and a quick and easy way to compare rates, terms and qualification requirements for various lenders.
While in dental school, students are learning patient care, performing procedures and preparing for license exams — not focusing on finance planning and management. To assist students and newly practicing dentists, the American Dental Education Association (ADEA) offers a variety of educational debt management materials, including this video with additional student loan refinancing tips.
For more ADEA debt management materials, visit ADEA.org. And for questions about financial planning and student loan refinancing, contact Donovan & Limroth for assistance.